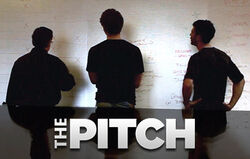 The Pitch
is an unscripted "docu-style" series that originally aired on AMC network. Each episode consists of a client company, and two advertizing agencies that compete against each other for the client's business. Both agencies are given a period of seven days to prepare, after which they "pitch" their ideas to the client company, in a "may the best pitch win" situation. The point of the show is to explore the incredible lengths, intense stakes and tight deadlines advertising agencies encounter when they take aim at a new piece of business. Each episode not only follows two creative shops as they work day and night to build a campaign worthy of winning over the brand, but also takes a closer look into the decision making process the brands go through in order to choose which agency has successfully captured their identity.
[1]
The show was nominated for a Critics' Choice Television Award in the category of Best Reality Series, and has been described as "an absorbing look at the frustrations and satisfactions of the creative process itself."
[2]
References
Edit
Ad blocker interference detected!
Wikia is a free-to-use site that makes money from advertising. We have a modified experience for viewers using ad blockers

Wikia is not accessible if you've made further modifications. Remove the custom ad blocker rule(s) and the page will load as expected.