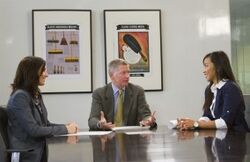 On a cold, crisp winter day, New Year's 1906, a 21-year-old entrepreneur from Nova Scotia, Alfred C. Fuller, began an enterprise which has become known worldwide as
The Fuller Brush Company
. From a bench between the furnace and the coal bin in his sister's New England home, young Fuller set out to make, in his own words: '...the best products of their kind in the world.' Through the years, The Fuller Brush Company has grown from one man's fiber suitcase, filled with unique custom-made brushes, to an exciting collection of home and business cleaning and personal care products, all crafted with the same quality and precision that have made The Fuller Brush Company a name welcomed everywhere. From the beginning, Fuller established three basic rules: Make it work. Make it last. Guarantee it no matter what. Today, over a century later, these words still guide The Fuller Brush Company. The Fuller Brush Company's Sales Force continues to grow and to answer the need for unique, quality products and personal service. One salesman's utilitarian idea, acted upon over a century ago, has become the livelihood for thousands of dedicated men and women.
[1]
Appearances
Edit
References
Edit
Ad blocker interference detected!
Wikia is a free-to-use site that makes money from advertising. We have a modified experience for viewers using ad blockers

Wikia is not accessible if you've made further modifications. Remove the custom ad blocker rule(s) and the page will load as expected.