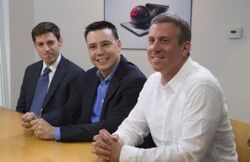 SquareTrade
is the #1 rated protection plan trusted by millions of happy customers for its fast and exceptional service. SquareTrade protects mobile devices, laptops and tablets, and other consumer electronics and appliances from malfunctions, accidental damage and life's frequent mishaps. Unlike old-fashioned warranties, SquareTrade is designed for today's consumer and uses innovative technology to deliver a zero hassle claims process. SquareTrade has more than 200,000 fans on Facebook, consistently wins industry awards and receives thousands of 5-star reviews for its customer service. Top retailers around the world offer SquareTrade, achieving a 200% increase in sales on average and happier customers. SquareTrade's rapid transformation of the warranty industry attracted one of the largest private capital raises in 2012, with a $238 million round led by Bain Capital and Bain Capital Ventures. Headquartered in San Francisco and London, SquareTrade is privately held.
[1]
Appearances
Edit
References
Edit
Ad blocker interference detected!
Wikia is a free-to-use site that makes money from advertising. We have a modified experience for viewers using ad blockers

Wikia is not accessible if you've made further modifications. Remove the custom ad blocker rule(s) and the page will load as expected.