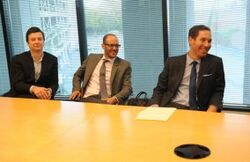 ONE/x
is an independent communications company comprised of some of the best minds in the industry. If you'd like, you can think of the 'x' in there name as 'ex.' They are ex-BBDO, ex-TBWA Chiat/Day, ex-JWT, ex-Deutsch, ex-DDB and ex-so many more. They are ready to leverage their big agency expertise from a different, more nimble, more contemporary platform. Their experience has taught them the do's and the don't, and has shown them the best way to do what needs to be done."
[1]
Appearances
Edit
References
Edit
Ad blocker interference detected!
Wikia is a free-to-use site that makes money from advertising. We have a modified experience for viewers using ad blockers

Wikia is not accessible if you've made further modifications. Remove the custom ad blocker rule(s) and the page will load as expected.