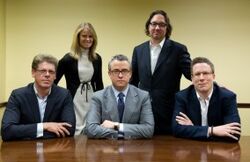 McKinney
is an independent advertising agency leading the evolution of the advertising industry in a post-digital world. Founded in 1969, the Durham, NC-based agency is recognized for having built one of the most innovative business models in the industry, one that blurs the lines between traditional and digital media. As a result, McKinney has been recognized as one of the best agencies in the country by Advertising Age and one of a handful of agencies setting the standard for creativity by ONE Magazine. The agency's clients include Sherwin-Williams, Mizuno USA, GNC, Gold's Gym, Nationwide Insurance, Big Boss Brewing, Lenovo, Meijer, Ruby Tuesday, CenturyLink, Brown-Forman Corporation and Zenph Sound Innovations. Most recently, the agency launched the McKinney Ten Percent, an initiative that encourages all of the agency's employees to dedicate 10% of their time to innovation.
[1]
Appearances
Edit
References
Edit
Ad blocker interference detected!
Wikia is a free-to-use site that makes money from advertising. We have a modified experience for viewers using ad blockers

Wikia is not accessible if you've made further modifications. Remove the custom ad blocker rule(s) and the page will load as expected.