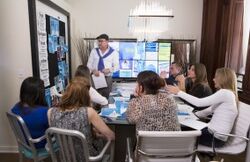 MC²
is a full-service, integrated marketing and communications agency. They break ground on each endeavor with a studied fusion of smart media planning, artful publicity and innovative design solutions to bring your brand to the forefront of a cluttered media playing field. From inception to completion, the MC² team follows each and every campaign meticulously, defining goals and interpreting campaign analytics regularly. They maintain a keen handle of and appreciation for both corporate and small business budgets. They are experts at creatively maximizing marketing dollars and have the know-how to creatively shape a strategy accordingly, no matter the size. MC² focuses on coaxing out the true vitality of the brand whilst always maintaining a fixed trained eye on the company's bottom line.
[1]
Appearances
Edit
References
Edit
Ad blocker interference detected!
Wikia is a free-to-use site that makes money from advertising. We have a modified experience for viewers using ad blockers

Wikia is not accessible if you've made further modifications. Remove the custom ad blocker rule(s) and the page will load as expected.