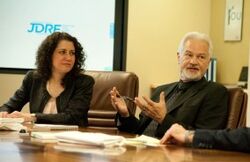 JDRF
is the leading global organization focused on type 1 diabetes (T1D) research. Driven by passionate, grassroots volunteers connected to children, adolescents, and adults with this disease, JDRF is the largest charitable supporter of T1D research. The goal of JDRF is to improve the lives of every person affected by T1D by accelerating progress on the most promising opportunities for curing, better treating, and preventing T1D. JDRF collaborates with a wide spectrum of partners who share this goal. Since its founding in 1970, JDRF has awarded more than $1.6 billion to T1D research. More than 80 percent of JDRF's expenditures directly support research and research-related education. Past JDRF research efforts have helped to significantly improve the care of people with this disease, and have expanded the critical scientific understanding of T1D. JDRF will not rest until T1D is fully conquered."
[1]
Appearances
Edit
References
Edit
Ad blocker interference detected!
Wikia is a free-to-use site that makes money from advertising. We have a modified experience for viewers using ad blockers

Wikia is not accessible if you've made further modifications. Remove the custom ad blocker rule(s) and the page will load as expected.