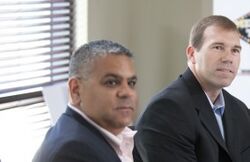 Clockwork Home Services
® is one of the largest home services providers in North America, working across 46 states to look after the air conditioning, plumbing and electrics for over 3 million homes, through its 3 largest customer focus brands of One Hour Heating & Air Conditioning®, Benjamin Franklin Plumbing® and Mister Sparky®. Sarasota, Florida based, Clockwork Home Services® is also dedicated to sharing best practice and expertise in the home services industry, working to advise other businesses through a network of affinity partners and members including Buymax®, Plumbers' Success International®, Electricians' Success International®, Roofers' Success International®, AirTime® 500, Success Academy®, AirTime® Canada and Successware®. Clockwork Home Services is a wholly-owned subsidiary of Direct Energy® and Centrica®.
[1]
Appearances
Edit
References
Edit
Ad blocker interference detected!
Wikia is a free-to-use site that makes money from advertising. We have a modified experience for viewers using ad blockers

Wikia is not accessible if you've made further modifications. Remove the custom ad blocker rule(s) and the page will load as expected.