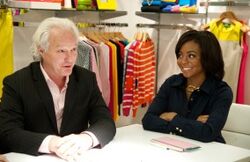 C. Wonder
offers women's clothing, footwear, jewelry and accessories, housewares and home decor, personal electronics, great gifts, and delightful surprises at every turn. Our design teams create a wide-ranging assortment of beautiful, versatile and spirited products for all areas of our customer's life. Our stores offer unexpected touches at every turn: rich interior furnishings; personal fitting room settings; embroidery and engraving on select products; an open door return policy; and payment transactions anywhere in the store. C. Wonder is one of several lifestyle and consumer products brands being developed by J. Christopher Burch, founder and CEO of J. Christopher Capital, an entrepreneur and active investor across a wide range of industries for nearly thirty years. Mr. Burch has been a strategic investor in multiple technology and luxury brands, including Aliph (Jawbone), NextJump, PowerMat, Voss Water and Tory Burch. C. Wonder currently operates four stores, the SoHo Flagship and at the following malls: Garden State Plaza, The Westchester Mall and Roosevelt Field Mall, in addition to a full-service e-commerce boutique. Additional stores will open across the country in 2012 and beyond.
[1]
Appearances
Edit
References
Edit
Ad blocker interference detected!
Wikia is a free-to-use site that makes money from advertising. We have a modified experience for viewers using ad blockers

Wikia is not accessible if you've made further modifications. Remove the custom ad blocker rule(s) and the page will load as expected.