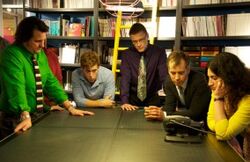 Bandujo
is a full service advertising and digital agency located in New York City. Since its founding in 1993 by Jose Bandujo, the agency's formula for success has been simple: blend business-savvy account managers with the industry's best creative thinkers to create powerful campaigns that are visually explosive and highly motivating. Today, the agency is proud to work with a very diverse and growing range of clients including JP Morgan Chase, The New York City Health Dept., Condé Nast, WisdomTree Investments, The Walt Disney Company, Bank of Tokyo, The New York Conservatory for Dramatic Arts and Children's Specialized Hospital.
[1]
Appearances
Edit
References
Edit
Ad blocker interference detected!
Wikia is a free-to-use site that makes money from advertising. We have a modified experience for viewers using ad blockers

Wikia is not accessible if you've made further modifications. Remove the custom ad blocker rule(s) and the page will load as expected.